Event Log Monitor V2¶
This dialog configures the Windows Event Log Monitor V2 service.
Eventlog Monitor V2
all Windows Versions since 2008 (Windows Vista,7,8,10,2008,2012, etc. up to 2019).
Eventlog Monitor
Windows 2000
Windows XP
Windows 2003
The V2 Eventlog Monitor provides the ability to monitor so-called "log channels". Each channel can work either in polling or subscription mode. In subscription mode, we are automatically notified by the operating system whenever a new event is logged. In traditional polling mode, we periodically check the channel. In both cases, it is possible for a user to re-set the channel reporting to an older event (parameter "Last Record").
Both of these functionalities are implemented by periodically iterating over the configured channels. The frequency is controlled by the "Sleep Time" parameter.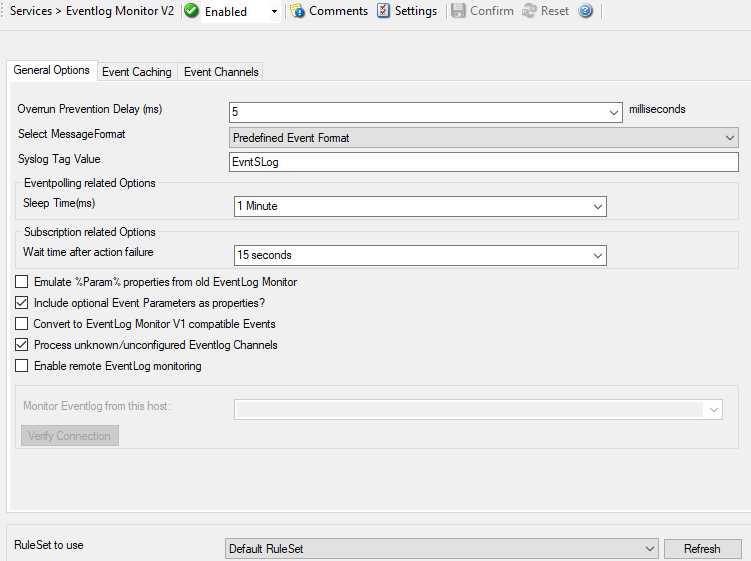 Service - Event Log Monitor V2 - General Options
Event Caching Tab¶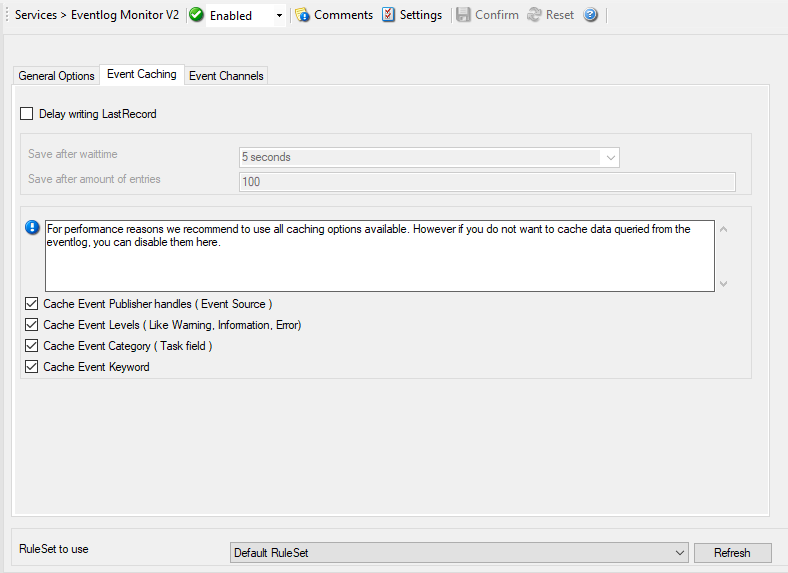 Service - Event Log Monitor V2 - Event Caching
Event Channels Tab¶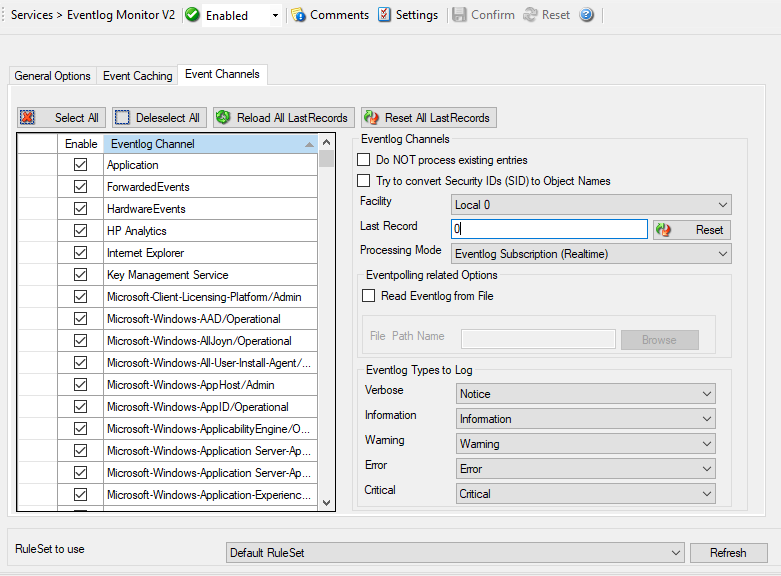 Service - Event Log Monitor V2 Event Channels
The most important part of this dialog is the treeview of available Channels. It specifies which event logs are to be monitored. The monitor is set to all Channels that are currently available. There happen to be custom Channels, too, due to Applications creating them on their own. They will be added to the treeview automatically every time you re-open this configuration window.
Here you can adjust the syslog facility and the event log types. You are also able to overwrite all existing custom advanced channel configurations with your new ones.
Channels which are checked in the table will be processed. Channels which are unchecked are kept in the configuration, but are not processed.
Do NOT process existing entries¶
File Configuration field:

nNoExistingEntries

Description:

If you don't want to get a dump of an existing specific Windows Event Log then use this option. When MonitorWare Agent / EventReport are restarted it will start processing after that last entry and do not look for the prevoius entries.
Try to convert Security IDs (SID) to Object Names¶
File Configuration field:

nTryConvSIDtoObj

Description:

With this option you can convert Security ID's (SIDs) to object names. You can enable this feature in the advanced configuration of each event log type in the Event Log Monitor service. Simple check the "Try to convert Security IDs (SID) to Object Names" option.

Note that only the Security event log has this feature enabled by default. For all other event log types this feature is disabled by default.
Facility¶
File Configuration field:

nFacility

Description:

The

Syslog facility

to map information units stemming from this log to. Most useful if the message is to forward to a Syslog daemon.
Last Record¶
File Configuration field:

szXMLBookmark

Description:

Windows event log records are numbered serially, starting at one. The service records the last record processed. This textbox allows you to override this value. Use it with caution!

If you would like a complete dump of a specific Windows event log, reset the "Last Record" to zero. If you missed some events, simply reset it to some lower value than currently set. It is possible to set "Last Record" to a higher value. This suspends event reporting until that record has been created. We strongly discourage to use this feature unless definitely needed.
Processing Mode¶
File Configuration field:

nApiReadMode

0 = Subscription Readmode (Realtime)
1 = Polling Readmode (Sleeptime)
Description:
There are two processing modes available, first the default processing mode is "EventLog Subscription" which processes Events in realtime. This means events are send to MonitorWare Agent by the OS as they happen, there is no delay at all. The other processing mode called "Eventlog Polling" and is similar to the method used in the old EventLog Monitor. The EventLog is checked and processed periodically controlled by the sleeptime. However using the polling method, you enable the "Read EventLog From File" option.
Read Eventlog from File¶
File Configuration field:

nReadFromFile

Description:

When enabled, the Eventlog is read from a file instead from the system.
File Path Name¶
File Configuration field:

szLogFileName

Description:

It defines which is file to be read, only available when "Read Eventlog From File" is enabled.
Event Types to Log¶
These checkboxes allow local filtering of the event log. Filtering is based on the Windows event type. There is a checkbox corresponding to each Windows event type. Only checked event types will be processed. Unchecked ones will be ignored.

Filtering out unnecessary log types at this level enhances system performance because no information units will be generated and passed to the rule engine. Thus, Adiscon strongly recommends dropping unnecessary log types.
Rule Set to use¶
File Configuration field:

szRuleSetName

Description:

Name of the rule set to be used for this service. The Rule Set name must be a valid Rule Set.