Many Adiscon products (e.g. WinSyslog and EventReporter) come with an online version checking feature. This feature is implemented via Microsoft's XML parser. Unfortunately, we had to learn the the redistributable XML parser component does not properly setup on some machines. As far as we have found out, it does not install correctly if no Internet Explorer or Internet Explorer versions below 5.0 are present. In these cases, setup error 1904 is displayed during the setup. It looks as follows: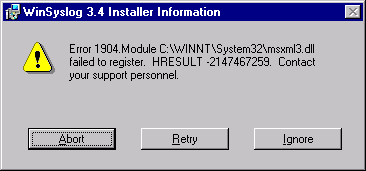 So how to get around this error?  The simplest solution is just to hit "Ignore". In that case, the installation will continue and the product be properly installed. All product features work flawlessly, only the online version check (available via the help menu) will not operate. This does in no way limit the functionality of the core product. Of course, installing or upgrading to Internet Explorer 5.5 (or higher) will ultimately solve the problem. We fully understand that this is not an acceptable solution for may environments.
We are working on a final solution for this problem. Unfortunately this involves Microsoft components, so we need their feedback. Please use one of the suggested workarounds in the meantime. Our apologies for any inconvenience this causes.
You may also want to have a look at a related forum thread.
I receive setup error 1904 when installing an Adiscon product – what to do?